Happy new year to all HTMLCenter readers!
HTMLCenter blog meets this year with completely refreshed look & feel and new monthly Newsletter (we will give our best to make 'monthly' – regular). In addition to this we have made few other minor changes to overall blog structure.
How and why we did it all?
Site look & feel redesign project was sitting on my to-do list for a while, but somehow it managed skip down in priority order each month.
HTMLCenter runs on WordPress (very good CMS indeed), and the old custom theme we had was becoming much outdated.
Old WordPress theme was build with desktop Internet browser in mind and didn't look good on mobile device browsers at all. Increasing number of HTMLCenter readers arriving via smart devices was a constant reminder that we had to find the time and do blog redesign.
Finally, we committed to do this work in December and it went well. For us techies it was actually fun.
Look & Feel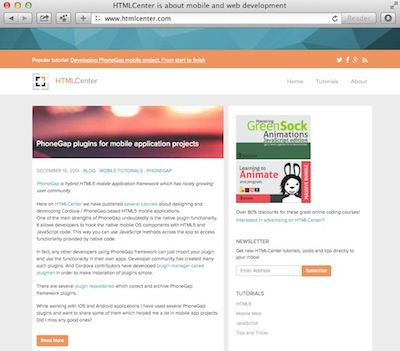 Our new WordPress theme is powered by Bootstrap responsive framework, which at this time is the most popular responsive, mobile first HTML5 framework. Mobile first because its philosophy is to create web UI's starting from mobile views first. Here is how HTMLCenter looks on tablets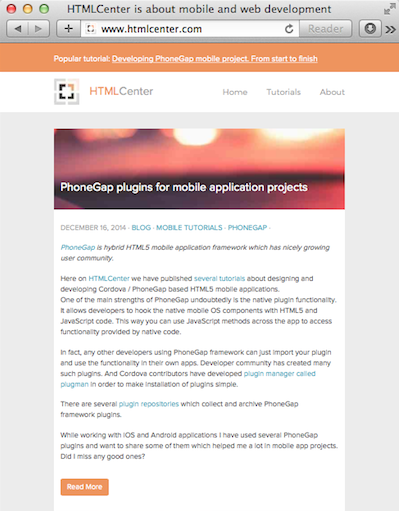 And on mobile devices with lower screen sizes (like your smartphones)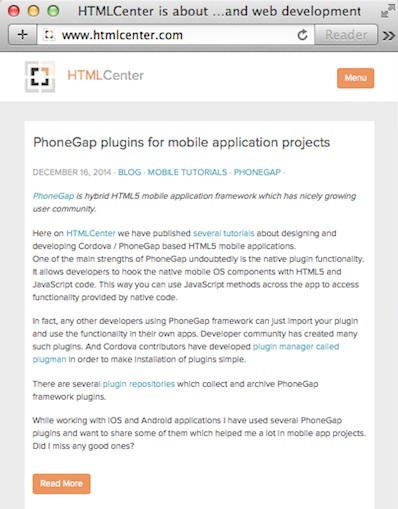 As I mentioned, converting actual design to HTML5 with Bootstrap was fun and interesting project.
In fact we have captured the steps we went through and are planning to publish very practical guide of converting psd designs to Bootstrap powered HTML5 front-end code. If you like to get it first – sign up to our monthly newsletter! (see below)
Old Forums gone
One of the things we have removed from site for now is the HTMLCenter forum. Old forum was based on phpBB engine and I had to disable new registrations 1 year ago due to most of the new registrations and comments being spam. If there will be a need for forum here on HTMLCenter (and I welcome readers to leave their comments under this post) – there are some new alternatives in forum world. Like Discourse.
Whats next?
Well, we will still be improving bits and pieces of blog UI design in next couple of months.
Reader opinions are very appreciated and would help us to make HTMLCenter great. Use the comments below or just send us an email. Thanks in advance!