I logged into my Virgin Mobile Broadband2Go account the other day and noticed something new. Previously, I had two plan options: $10 for 100 megabytes (or 10 days, whichever comes first) and $40 for unlimited data (lasts for one month). However, there is now a third option in the list.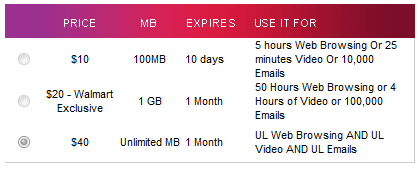 It seems, since I bought my MiFi from Wal-Mart, I can get one month of service with 1 gigabyte of data for only $20. Obviously this plan wouldn't work for me as my sole source of broadband (I know I use a lot more than 1 gig each month), but it is probably a great deal for people that just use the MiFi occasionally or strictly for Web browsing (no downloads).
I initially thought you could get this deal if you simply bought a new top-up card at Wal-Mart, but this article seems to indicate that it is only available to customers that bought (or buy) their MiFi devices at Wal-Mart. Sadly, at this point in time, Wal-Mart seems to be charging $40 more than list price (and Best Buy is charging $50 more; both according to their websites – Radio Shack is still selling the device at the $149 list price) for the MiFi devices, so you're most likely going to have to decide how much you think you might use this mid-tier plan before you decide whether to buy the device at Wal-Mart.