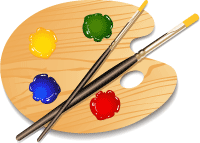 A few weeks ago, I found I needed a few icons for a project on which I was working. After a little bit of Googling, I came across the "All Free Download" Web site. Be forewarned, it is kind of a minefield of advertisement banners, but there are some great images to be found there.
Many of the images are available as vector files, allowing you to save them at basically any size you choose without worrying about degrading the visual quality of the image.
If you find yourself in need of imagery or icons for any projects, you might want to pop on over to All Free Download and see if they have anything to fit your project.