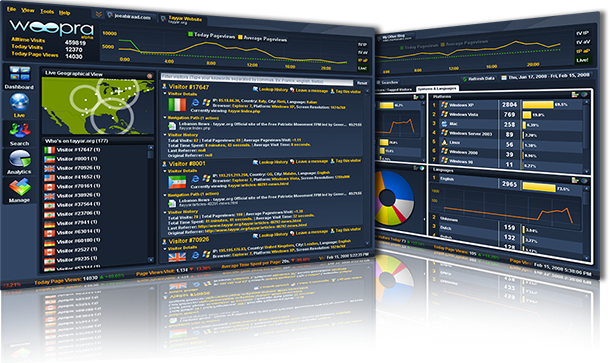 A few weeks ago, I read about Woopra over on CN. Intrigued, I decided to give it a try. I registered two accounts (one for work and one for personal use) and signed up all of the sites I manage.
A week or two later, I received notification that my sites had all been approved, and that I could start using Woopra to track them. I got all of the tracking code installed, downloaded the Woopra client to my desktop and started watching the action on my sites.
For a week or so, I was really impressed. The interface is extremely attractive, and has lots of pretty colors. The data it collects seems to be most of what I want from an analytics service.
Then, however, the trouble began. I kept getting logged off or experiencing crashes in the software. Then, my data started disappearing.
I have to admit that I was somewhat disappointed from the beginning, to find out that I needed to install software on my computer in order to use Woopra. I rolled with it, though, and gave it a shot.
I realize that the system is still in beta, and that bugs are to be expected. However, these bugs simply make the program unusable at the moment.
To make things that much worse, it seems like the Woopra team has abandoned their own forums, as I watch bug report after bug report and complaint after complaint go unanswered in their support boards.
I really hope Woopra is able to recover from this and get the kinks worked out, as it has the possibility of shaping up to be an extremely impressive system. At this time, though, I simply can't recommend it.
I signed up for Clicky earlier this week, so I'll hopefully have some interesting things to say about that system within the next few weeks or months.