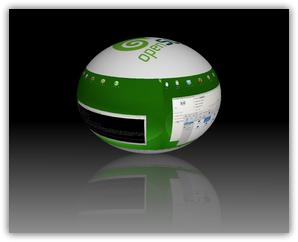 On Thursday, June 19, OpenSuSE 11.0 was officially released by Novell. The newest version of OpenSuSE includes many new software packages on the installation DVD. Some of the new packages include Firefox 3.0, KDE 4.0, Compiz Fusion (apparently a 3-D display module – pictured at right) and a newer media player called Banshee 1.0.
All-in-all, the new release from the OpenSuSE community includes over 200 new features that are only available in OpenSuSE.
Having been a SuSE user for a little more than three years, I cannot recommend this download highly enough. When I first installed SuSE, I was very weary of using Linux, as I had heard everyone talk about how difficult Linux was to use if you weren't a complete computer geek. SuSE was a different experience altogether, however. The desktop is extremely intuitive and the entire OS is very easy to use. It took very little effort to understand how to configure and use SuSE, and I very quickly came to love it.
If you are curious at all about Linux, you should definitely download the new live CD from the OpenSusE download site. A live CD is a disc that contains the entire base operating system on a single disc. Live discs do not require you to install anything on your computer. Rather, the entire operating system runs directly from the disc. Of course, with a live disc, you don't have nearly as many configuration options and you can't really store your files effectively. However, the newer live discs from SuSE have even included a one-click install option right on the desktop, should you ever decide you want to install the system on your computer.