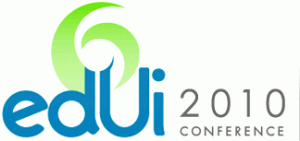 The 2010 edUi Conference will begin in less than 24 hours, but there are still a handful of spots left if anyone is interested in attending. For those that are not aware, edUi is a conference for Web professionals at higher education institutions, libraries, museums and more. The conference focuses mainly on user interface (UI) and user experience (UX), but myriad other topics will be covered, too.
This year's edUi has some true star power with Paul Boag (of the BoagWorld podcast and much more), Stephanie Sullivan, Greg Rewis and many more Web celebrities presenting. The conference lasts two full days (Monday and Tuesday), including a half-day workshop, a plenary speech by David Berman, a keynote speech from Paul Boag and eight different sessions in each of the four tracks.
If you are in the area and are looking for a great conference at a good price, you can't do much better than edUi. I hope to see you there.