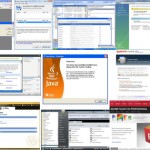 On one of the blogs I frequent, I happened across a post that references a recent ZDNet blog entry. I read the ZDNet post with great joy, agreeing wholeheartedly with almost every statement made within the entry.
I don't quite agree with the comments made on Norton, as my only real gripe with Norton is that it doesn't seem to do anything on its own. It just sits patiently in the "notification icons" area of my taskbar, with a little red exclamation point telling me that I need to perform some sort of action to keep my computer clean and secure.
Other than that, I think the entry was completely spot-on. In fact, the comments in that entry about Apple and its Windows software eerily echo the comments I made about six months ago.
I do have to admit that I was relieved to read the comments made on Flash, as I have honestly felt, for years, that I was the only Web developer in the world that felt that way about Flash. Thank God my feelings have been validated by someone else.