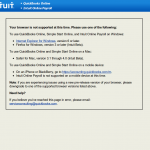 Intuit has finally updated the Quickbooks Online application that many companies use to track employees' time. For many, many years, Quickbooks Online has been exclusively available to Internet Explorer users. As of this week, a new version is available that works in Mozilla Firefox on Windows and Safari on Mac. Unfortunately, Intuit automatically redirects to a message explaining that your browser and/or operating system are incompatible with the application if you try to use Chrome, Opera or Safari on Windows or if you try to use any browser on Linux (haven't tested on Mac, but I'm assuming that it's the same story if you try to use anything but Safari over there).
There is also a new version of the site that's compatible with iPhone and Blackberry devices. Oddly, though, you actually have to navigate to the mobile version of the site, rather than Intuit automatically redirecting you. Also, there still seem to be a few bugs in the mobile version, as it keeps telling me that I "don't have access rights for this company."
What can possibly be available in Firefox on Windows and Safari on Mac that's not also available in Chrome or Opera on Windows or any of the browsers in Linux? I'm assuming that they're loading and utilizing the .NET framework in Firefox on Windows, but I can't say for sure. If you have any insight into this matter, please share it with me.