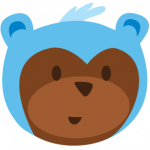 It's been a while since I've logged into Brizzly, having been using Pip.io recently to manage my personal Twitter account. Today, though, I needed to monitor both of my Twitter accounts for part of the day, so I decided to pop in to Brizzly to do so.
I was a bit surprised when I logged in. The interface has an entirely new look. Everything is still basically in the same place as it was before, but the color scheme is drastically different than it was the last time I visited Brizzly. In fact, there are now four themes available within Brizzly, allowing you to sort of personalize your experience.
It seems that this change, among others, was made a little over a week ago.