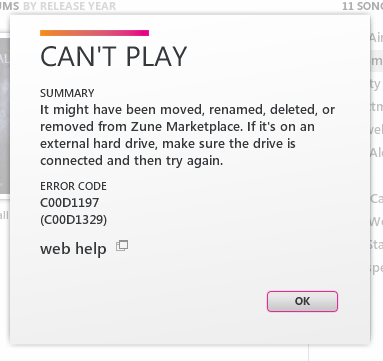 Since the Zune 4 software was released, I have been using it fairly exclusively as my media player when using Windows. I really enjoy using the software, and I like the way it tracks and shares my recent plays. In the spirit of Xbox "achievements," the Zune social system even issues "badges" once you've listened to a specific artist enough times.
Unfortunately, however, the Zune software is only available for Windows, and I use Linux about 99% of the time on my home computer. I do, however, have Windows XP installed as a VirtualBox guest so I can use Windows programs like Photoshop, Internet Explorer 6 (for Web development testing), etc. I thought it would be simple to use the Zune software inside of that VirtualBox. I was wrong.
Apparently, the Zune software will not recognize media files stored in a VirtualBox shared folder. When you attempt to play the files, you will most likely receive an error stating that the file couldn't be played, and that it might have been moved.