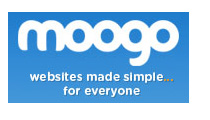 Moogo lets you create professional looking websites with a range of design and layout options for almost any type of content site. There are a wide range of options inside the Moogo portal and site creation is very quick and easy. It's just three simple steps and if you can use Microsoft Word, you will be able to use Moogo.
The only thing you need to decide with Moogo is what features you want to use. Moogo offers you a Free Website with minimal options and features, something very basis if you are not ready for a full web presence. Then there are paid options ranging from $4.99/month to $14.99/month. I wont go into explaining the offerings for each of the paid plans, but I will explain the steps on how to setup the Personal Website plan:
Selecting a Layout
The first step is all about selecting the correct layout for your site. Moogo offers a variety of layouts from which you can select the one that best suits your needs. Assign the headers, the header is the top image on your page and you can select from a variety of categories, from Interests to Information Technology. You can preview your selections on the right side to see the picture of what the page looks like.